OneDrive - "The Specified View is Invalid" Error
By Katy Nicholson, posted on 10 June, 2019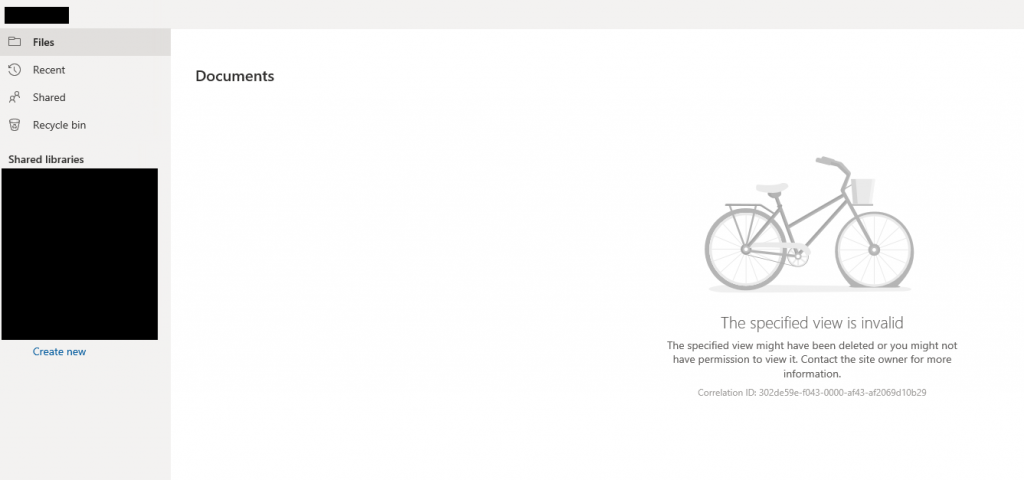 After a long call to Microsoft it seemed the problem was that the default view on the SharePoint list had become corrupt and needed to be removed - problem being that as it was corrupt it wouldn't let me delete it, and it wouldn't let me set a different view as default. It was beginning to look like we'd have to open the site in Explorer (so via the old WebDAV) and duplicate all the contents - a very slow process for a large document library.
One of the things suggested was Sharepoint Designer, however when I tried to open the site in the version Microsoft Support directed me to, I was presented with "403 FORBIDDEN403 FORBIDDEN403 FORBIDDEN403 FORBIDDEN403 FORBIDDEN" as the error message. After spending a long time messing with permissions to no avail, it was getting towards hometime so arranged with Microsoft Support to pick it up after the weekend.
A few nights sleep later and I decide to have a try while waiting for them to call me back, and this time stick the Sharepoint Designer error into a search engine to discover - there's an update to the designer which fixes this issue! So to solve this you will need Sharepoint Designer 2013 with this update (https://www.microsoft.com/en-gb/download/details.aspx?id=42009), and Site Collection Admin permissions to the site. From Sharepoint Designer, click on Open Site, then enter the address in the format https://<tenancy>-my.sharepoint.com/personal/<user_login_id>/ e.g. https://contoso-my.sharepoint.com/personal/katy_contoso_com/ then hit Open. With any luck it'll open the designer:
Click on Lists and Libraries, then Documents. At the right hand side, click on "New ?". Enter a name and tick "Make this the default view". Once you've created this view, switch back to OneDrive in the browser and refresh - hopefully it's working now. You can then switch back to the designer, select the old views and hit the Delete key.